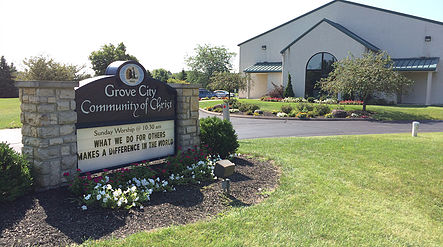 Who is Grove City Community of Christ?
Grove City is an active Community of Christ congregation where Jesus is the focus of our worship, learning, caring, and mission.
We use a blend of contemporary and traditional forms of worship on Sunday mornings with contemporary praise songs, projected video, and worship music.
What can you expect from us?
When you walk in on Sunday morning, you will find many friendly people hoping to make you feel welcome!
What will people be wearing?
People will be wearing a wide variety of clothing styles ranging from casual to Sunday best. Come as you feel comfortable!
Will there be anything to eat or drink?
There is coffee available to anyone on the cart outside the sanctuary.
Is there a place for your children?​
Absolutely! Grove City has Church school during the 10:30 a.m. worship services. Except for the nursery, classes will join the congregation for Communion Sunday each month.
For more details, check out our Events page under Sunday School.
Where is Grove City Community of Christ?
1255 Stringtown Rd
​Grove City, OH 43123
What time do we start?
Our Sunday morning service starts at 10:30 am every week. We also have Small Group Discussion (our Adult Sunday School) at 9:30 am.
Grove City has many other activities and events that might interest you. Check out the Events page for more details.
How can you get involved?
Aside from the various events we have, there are also Pre-baptismal classes (for children 8 or older) and Seekers classes (pre-baptismal classes for adults) available upon request!
We look forward to getting to know you no matter how you choose to be involved!